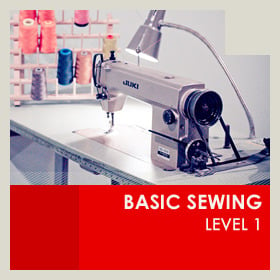 $

55.00
Want to learn how to sew? Learn the basics in one of our favorite sewing classes! You will learn how to thread a machine and read fabric grain lines. With our sewing templates, you'll practice sewing straight and curved lines, learn how to pivot, and even sew a gather stitch in our modern South Pasadena sewing studio.
There's no finished project for this class but you will learn all the basic stitches and terms for you to move onto your first project (like this or this!).
Use our machines or bring your own! Ages 9 and up.
2 hour class taught by Jin, Allison, Alexis and Haylee.
What you need to bring
(available for purchase at Common Thread Studio)
- Fabric shears
- Glass or stainless steel headed pins
- All purpose thread, 1 spool any color
Optional
- Tape measure
- Tailor's chalk
- 2" transparent ruler
- Seam ripper
- Thread snippers
- Hand sewing needle
**Optional tools are not necessary for this class but required for our other machine sewing classes. From our customers' experience, pre-packaged sewing kits from mass retailers have not been of sufficient quality.
Please review our cancellation policy before purchasing. Thanks!